494
Venue and travel information
The conference will take place in the De Laugier cultural centre in Portoferraio, Elba Island, Tuscany, Italy. Elba is the biggest island (223 km²) of the Tuscan Archipelago, and home to the largest marine park in Europe. It is worldwide known for its crystal clear water, granite rocks and for harboring Napoleon during his exile.
The building still bears the name of the Napoleonic Official Cesare De Laugier, of Elba origin. The cultural and congress centre is located in a large square with a wonderful view of the rooftops of Portoferraio. On the ground floor there is a Renaissance portico that leads to a patio with a well.
The conference dinner on Wednesday 15 will be at the Ristorante la Bussola, Via Cairoli n. 2, located just in front of the Ghiaie beach, within 1-min from the three first recommended hotels

Portoferraio waterfront De Laugier conference center

Hotel and restaurant location "Le Ghiaie" beach
How to get there

Download the Maps Link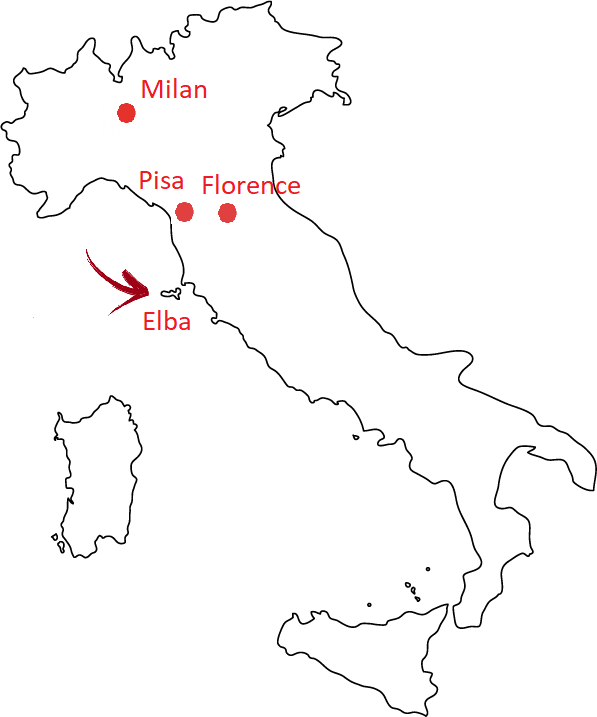 Portoferraio can be easily reached from Piombino Marittima (Tuscany coast) either through jetfoil (40 min) or by ferry (1 hour). Four sailing companies are available: Toremar, Moby Lines, Blu Navy, and Corsica-Sardinia Ferries. Portoferraio downtown, the conference venue, the restaurant of the conference dinner and the recommended hotels are located at a walking distance from the pier.

The two international airports closest to Piombino Marittima are Pisa and Florence.

From Pisa airport: take the People Mover service that connects the airport to Pisa main train station (Pisa Centrale). The service is available every day from 6:00 AM to 00:00 AM at 5/8 minute intervals. From Pisa Centrale take a Trenitalia regional train to Piombino Marittima (around 1.5 hours).

From Florence Peretola airport: take the tram T2 (timetable) from the airport to Florence main train station (Santa Maria Novella). From Firenze Santa Maria Novella take two Trenitalia regional trains to Piombino Marittima (around 2.5-3.00 hours).

Alternatively, from Milano Malpensa international airport, take the Malpensa Express (timetable) to Milano main train station (Milano Centrale) and from there a fast train plus one or two regional train to Piombino Marittina (around 6 hours).
Trenitalia timetables are available here.

Car rental
Car rental offers you the opportunity to drive across the beauties of Tuscany. You can rent a car at Florence and Pisa airports and then drive to Piombino Marittima to catch the ferry. Many car rental services (Hertz, Avis, Budget, Europe Car, Golden, Maggiore, Giuliani…) are available at both airports. Check out this link.